Daily Practice - April 7, 2010 - Value and Values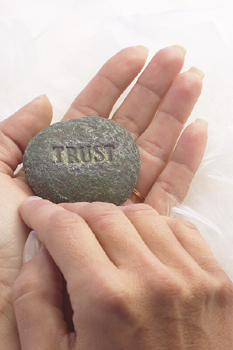 I've been thinking a lot about the value employees provide to their employers, especially in light of last week's post about the White House Workplace Flexibility Forum. It seems to me that requiring "face time" in many instances is a result of fear and distrust. Managers might question how "hard" someone is working when out of sight, and fear consequences to their own jobs as a result. Some employers respond with technology, providing "solutions" to monitor workers, but this doesn't remove the distrust, in fact it magnifies it by quantifying it, and adds to employees' fears about job security.
I've heard more and more anecdotes of companies administering "personality" tests in an effort to better zone in on people who would be exemplary employees and weed out those who merely interview well. This again places distrust on the managers to manage effectively, and starts the employment relationship in a defensive position - the employer is implicitly stating, "You can't get one over on us."
Both of these examples try to end-around authentic communication between employee and manager and impose systems to "fix" the human factor involved. How can employers foster collaboration and trust - positive values - rather than continuing the fear/distrust cycle?
Cutting Edge Law Categories:
Lawyer Well-being and Psychology
Topics:
Wholeness and Balance