The Legacy of Rudolph … and Robert May
This story is one of my favorite legacies, and stories in general. Like many great legacies, it had humble beginnings. It grew out of a simple work assignment, done with great heart. Its tangible form grew from a single work into a major franchise known the world over. That's the sort of thing that can happen, even with something that starts out very small.
In 1939, when Robert Lewis May was 34 and developing his career as an advertising copywriter, he went to work for department store chain Montgomery Ward (MW) in Illinois, USA. It's quite unlikely he realized then that a simple work assignment he would create from love and meaning would go on to become a great legacy, or that his employer would contribute to it with a small but significant act of social responsibility. MW ceased business operations in 2001, but its contribution to this legacy story lives on.
The tradition at MW was to give away coloring books for Christmas every year. May was assigned the task of a new promotional activity: create a holiday booklet to distribute to shoppers. Though a copywriter, May also enjoyed writing children's stories. He had a 4 year old daughter named Barbara. His wife, Evelyn, had been bed-ridden suffering with cancer for two years, and May's income and savings had gone for her treatments. Dealing with her illness and their finances, he was pretty down and out at the time. Scrawny as a kid, May had often been teased, so he also knew well the plight of being different and feeling ostracized. He'd written stories to comfort Barbara during this time, so he wrote a poem for the booklet that would help Barbara better understand these issues, as well as the meaning of Christmas.
Rudolph The Red-Nosed Reindeer Is Born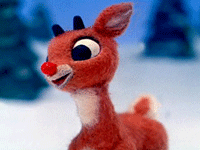 The poem was the story of Rudolph the Red-Nosed Reindeer. May began by telling it to Barbara and seeing which parts she enjoyed. She even helped decide on the reindeer's final name. The now-famous story known to many the world over tells of a young reindeer ousted from the reindeer games because of his beaming bright red nose.
One particular Christmas Eve at the North Pole, as Santa is packing the sleigh with toys, a thick fog rolls in. Seeing Rudolph, Santa gets the bright idea of having him lead the way and save the day. Despite MW's initial hesitance to use the red-nose image, often associated with drunkenness, the illustrations developed by May's art department co-worker Denver Gillen (based on reindeer at the Lincoln Park Zoo) convinced them to run with it. And it was a hit. Approximately two and a half million copies of the booklet were distributed that Christmas.
May's wife passed away during that time, and he was left with grief and significant debt from her medical bills. When World War II started, the giveaway project ceased, yet throughout the war requests poured in for Rudolph books, toys, games, puzzles, records, none of which existed. The demand continued to grow each holiday season when the original booklet was brought out with the holiday decorations and read again to children. May was not able to pursue these requests, nor benefit from them. MW held the copyright and he didn't even have royalty rights. As a corporate employee when he created the story, the work belonged to his employer. The booklet's popularity continued, however, and by 1946, over 6 million copies had been given away.
Exercising The Courage To Deepen The Legacy
May gathered the courage to approach the corporate president about the work. Sewell Avery was a wealthy (retired in 1955 with a fortune of $327 million), anti-union business man, and one with a generous and altruistic nature. May convinced Avery to grant him the copyright. Thereafter, demands for Rudolph products swamped MW and Bob May, with businesses seeking permission to manufacture toys, puzzles, pajamas, slippers, and numerous other products.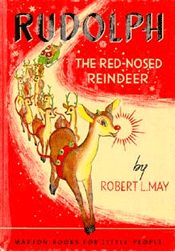 That year, the story was first printed commercially. It was made into a short cartoon (click the link to watch it).
In the original story, Rudolph was raised in a healthy, loving household. He didn't yet live at the North Pole; rather Santa found him while delivering presents to his home, that foggy night. May's brother-in-law Johnny Marks wrote lyrics and a melody for the Rudolph the Red-Nosed Reindeer holiday song that is now the well-known version of the story, and which was first recorded by Gene Autry in 1949. That record sold 2 million copies its first year, and has gone on to be one of the most famous holiday songs of all time. A bookstore version of the book was created. Parker Brothers developed a Rudolph game. Even the Ringling Brothers — Barnum and Bailey — created a circus character from a pony with antlers and an electrically lit nose. The song version of the story was turned into a television special narrated by Burl Ives in 1964, and memorialized as a classic. Two additional sequels to the original story, Rudolph Shines Again and Rudolph To the Rescue (all now available through Amazon!), were also developed. The Robert L. May collection is housed with his alma mater, Dartmouth College.
In 1951, May left Montgomery Ward to manage the Rudolph phenomenon for eight years. But he returned to work at the company that had been so good to him until his own retirement in 1971. His creation, born of simple work as a corporate employee, fueled by the love of his daughter and the courage to stake his claim in the work… became a significant legacy.
This story illustrates that not all legacies are of the large financial endowment variety. Some start small, or originate from other projects.
Do you have a story in you that might be handed down for generations, and possibly even monetized to provide income during the development process – or to fund a larger endowment later? (Legal tip — if you're employed by a company and create the piece for work, consider protecting the work product as yours before you start!)
Corporate Social Responsibility Fuels The Legacy
The other legacy in this story, though, is the act of MW's president, Sewell Avery in what can be compared to an act of corporate social responsibility. His decision allowed May's story to become the phenomenon it did. It was a personal contribution to May for his good work that allowed it to develop into a much greater impact than simply retaining the work product for retail promotional purposes would have done. Such generous actions come in all forms as well — and might be something you could develop through your own business, or in support of one of your own staff members. While the act in this situation applied to only one person, Robert May, the act of the company president to award him the legal right to his own creative work has also rippled out to benefit children and adults the world over.
If you are a business owner, what might you create or even include your staff in developing, which could become your own legacy in the form of a social responsibility project that benefits some people, place or thing in a community you care about? Starting small, that idea could one day develop into a separate corporate foundation which administers the project or product to allow that benefit to endure for a long time to come.
Maybe this holiday season is a good time to contemplate what you might do, as an individual or as a business, to build a legacy level project as a conscious exercise of generosity — a positive impact that endures. It would be a worthy project to engage in for the next year, one step at a time, and we'd love to provide the support and accountability for you to get that done.
Have a warm and happy holiday season! For fun, color your own picture of Rudolph here. And click here to listen to the original song recorded by Gene Autry. Enjoy them while you conjure up visions of your own worthwhile project!